"The Nis Ts'edilh (We are Moving Forward) Job Fair aims to connect potential First Nation employees with local and regional employers who contribute to the career development and ensure the on-going success of potential employees in an increasingly competitive marketplace. We work collaboratively with industry and community partners to provide First Nations with engaging opportunities for experiential learning, networking and job preparation."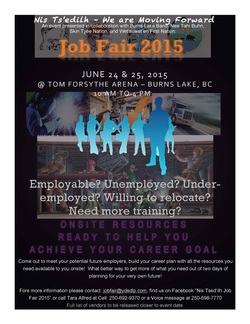 Nis Ts'edilh (We are Moving Forward) Job Fair 2015
The Nis Ts'edilh (We are Moving Forward) Job Fair 2015 was held in Burns Lake, BC at the Tom Forsythe Arena on June 24th & 25th, 2015. The project was coordinated in partnership with the "Nis Ts'edilh - We are Moving Forward" Working Group. The Nis Ts'edilh Working Group has representative members from the communities of Nee Tahi Buhn, Skin Tyee Nation, Burns Lake Band, and Wet'suwet'en First Nation.
The two-day event had traffic-flow of over 350 people, and 40 exhibitor booths from across Canada. The well attended event included Main Stage presentations, free resume review, Job Seeker Information Package, Door Prizes, Waffle Bar/Continental Breakfast, Lunch, and Snacks each day. Guest speakers for both days included Mike Podlasly, Thomas Morris, Samantha Moise and more. Job seekers and participants that attended the two-day event were from WFN, Lake Babine Nation, Cheslatta Carrier Nation, Nautley, Stellaquo, Moricetown, Nee Tahi Buhn, Skin Tyee Nation, Takla, New Aiyansh, Squamish and McLeod Lake. Over 310 resumes were handed out at the event, with 2 confirmed hires and six (6) companies with potential hires in the near future.
Exhibitor Comments:
"Well organized, very friendly people, the right businesses were here"
Crew Safe BC"
We look forward to developing relationships with the First Nations bands in the area. Thank you for being so welcoming."
Northern Civil Energy"The Nis Ts'edilh Job Fair 2015 benefitted all the six First Nations in the area, and was open to everyone! I was able to meet with all exhibitors. We had exhibitors wanting to return again next year. There were compliments on the set-up, food, and the guest speakers." Tara Alfred, Community Navigator - New Relationship Trust
Thank you to all the volunteers, participants, exhibitors from across Canada. We have realized how valuable of an event this is - for students, job seekers and employers. To our sponsors and exhibitors, I extend sincere appreciation for your interest in, and participation with our communities. Thank you for your support.
Participating Employers & Organizations:
AECON
NORTH CARIBOO AIR
ALL NORTH
NORTHERN MAT & BRIDGES
BC HYDRO
NORTHERN CIVIL ENERGY INC.
CANFOR
NORTHWEST FUELS
CHEVRON
OPUS STEWART WEIR
CIVEO
PNG
CLEAN HARBOURS
TECK RESOURCES
CREW SAFE BC
TECUMSEH ENERGY
COLLEGE OF NEW CALEDONIA
TRANSCANADA
DOMCOR
YELLOWHEAD HELICOPTERS
F & M INSTALLATION
YINKA DENE ECONOMIC DEVELOPMENT
FALCON CAMP SERVICES
PGNAETA
GEOTECH DRILLING
WORK BC
HIGHLAND POWER
OFFICE OF THE WET'SWET'EN
INDIGENA SOLUTIONS
MOOSE FM
MACRO INDUSTRIES
LDATES
MORGAN CONSTRUCTION
WET'SUWET'EN FIRST NATION EDUCATION
NORTHWEST COMMUNITY COLLEGE
---
---
---